Flappy Bird Returns is the eleventh Ask Orange video aired May 30, 2014 where Flappy Bird returns from the kitchen in a video game.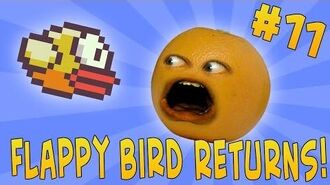 Questions
Edit
Q) Kobe Fish (Google Plus) - Hey Orange, Flappy Bird's back in the kitchen.
A) Not a Good Answer but we're Not Doing That Again
Q) RubysSparklyRainbowChannel - Can you fart rainbows, Orange?
A) No, Just Diamonds
Q) Hym Verdan - Print yourself in a 3D printer.
A) That's an Honest Question
Q) dean - Look out! Someone's going to lick you!
A) That's a Racist Question
Q) Imani Haven - Can you please put chili in someone's eyes?
A) No
Q) DPro GM - Do you love Passion Fruit? A clean answer!
A) Unless if you Go in the Bathtub
Q) YoshiAngemon - Batpan
A) And Even Robinero Sauce
Q) TheDragonwarlordx - Have you ever had a near death moment?
A) See the Flashback of the Timeline that Hasn't Happened Yet
Q) Jesus Ocampo - Please tell me if Marshmallow is a boy or a girl. Please!
A) Unable to Answer while Orange is in the Bathtub
Q) Isaac MalteserBrowni - Who would win in a fight between Midget Apple and Marshmallow? Does Midget Apple have a small chance?
A) A Small Chance to Lose Fighting
Q) Zachary Ahl - Hey Orange, IMMA FIRIN MA LAZOR!
A) That's a Racist Question
Q) Seth796 - Can Marshmallow twerk?
A) Yes
Q) Robert Fish and Zip the 23rd - How fast can Orange roll and how long can you burp after drinking Zoop?
A) Unless if you Let Orange Blast Out from the Similar Episode "Time to Burn"
Transcript
Edit
Other Languages
Edit